In a fast-changing digital landscape, monitoring the media is imperative in crafting effective marketing campaigns. Manual media monitoring can be a challenging task, but it can also uncover valuable opportunities if done correctly. Companies of all sizes are becoming more focused in 2018 on the representation of valuable and effective ROI.
With that comes more stress on the PR/IR departments, who are responsible for providing media data on brand value. The majority of PR and communications professionals are required by industry executives to monitor, measure and analyze media data. Gathering metrics, analyzing data and measuring against objectives and competitors can be more than a full-time job — one that can't be done using free tools.
Smaller companies and organizations may initially be skeptical about going with a paid vendor, considering that there are some free services out there that provide automated news alerts and so-called "media monitoring." Google Alerts is a typical example. While it's free, it should be known that Google is an internet search engine. Google News has its own set of computer-generated rankings based on a set of algorithms that constantly evaluate, filter and index relevant content.
What's more, internet users now have the ability to block certain content. Multichannel marketing should not be grounded solely in online results. Brand value can be measured by a variety of media channels including broadcast, print and social.
As a PR and Communications professional, you must utilize encompassing tools that enable you to monitor media beyond Google algorithms. That's where paid media monitoring services come in. Consider the three following differences:
You Can Easily Miss Coverage
While a free tool like Google Alerts is an excellent intro to monitoring the media for smaller, less critical topics, it is not a tool that can be relied upon to consistently catch every key message. With Google Alerts, you are only receiving news from a limited number of online publications, leaving you with only a fraction of the information that is taking place around your key alerts. Leaving critical gaps in coverage can have a big impact on crisis planning or campaign monitoring.
Robust Social Media Monitoring Requires Sophisticated Tools
Social media is now a platform that businesses need to be listening to in order to accurately monitor crisis planning or campaign monitoring. According to a study by Simply Measured, "Some 80 percent of respondents say they help clients with social media monitoring, 78 percent with strategy, and 75 percent with campaign analysis." Further, "Some 61 percent of social media marketers at agencies say measuring ROI is among their biggest challenges."
Informing Business Decisions With Insights
Free tools like Google Alerts merely notify you of mentions, which doesn't help drive any action as standalone points. Media monitoring should act as a medium to help identify trending topics over time through charts and graphs, categorize mentions by sentiment and benchmark and visualize data points to give your team a clear idea of what is working, what isn't, and what needs to be prioritized. PR and comms professionals need to be able to visualize their success to higher level executives, as well as internal stakeholders. This type of insightful communication is not available through free services like Google Alerts.
State of The Art Audience Metrics
Gathering more granular metrics is something only achievable by more sophisticated media monitoring solutions. Understanding website traffic, leads, and revenue generated, as well as demographic and firmographic data can help your team dig deep into your earned coverage. This information goes a step beyond most media monitoring vendors and starts to bridge the gap between the PR and communications space to marketing metrics that are measurable across your organization.
Media monitoring solutions help PR and communications professionals do their job better by strengthening productivity and minimizing time spent on gathering, analyzing and measuring data.
Influencer, content and video marketing campaigns that target multiple channels should measure online, broadcast, print and social monitoring to gain impactful data. For example, can you track infographic downloads and views via Google Alerts alone?
Free media monitoring services typically only cover one channel, which is not ideal for reporting robust results. Multichannel marketing needs multichannel monitoring to optimize brand value measurements.
Data analysis can be a daunting task, even for experienced PR and Communications professionals. Are you ready to learn more about media monitoring? To discover what's right for your company download The Ultimate Media Monitoring Buyer's Guide today.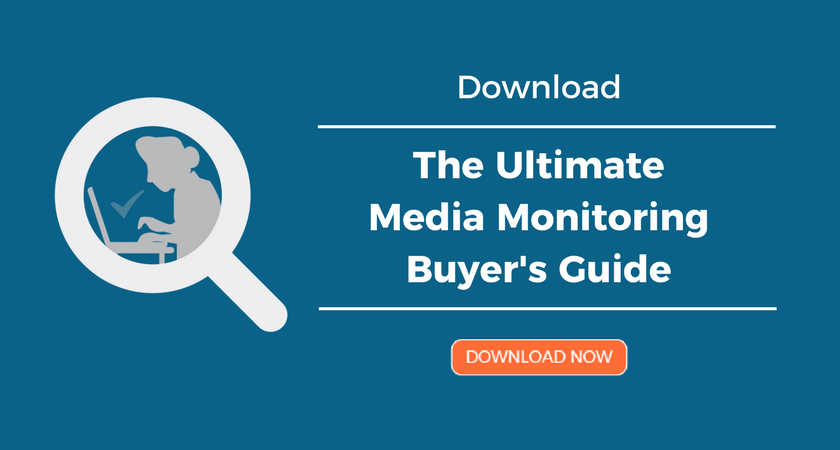 Lee Ribeiro is a Product Marketing Manager at Cision, where he manages content and communication channels between product and sales teams regarding product updates, new features, and positioning towards B2B and B2C audiences.