Modern communicators are turning old media pitching models upside down. Here's the secret: to become a modern communicator the importance of adopting Earned Media Management as a strategic approach to all campaigns cannot be stressed enough. PR and comms professionals that use the power of technology, data, processes and analysis combined will take a data-driven, systematic approach to their campaigns. As the industry begins to embrace the use of data, an Earned Media Management framework will modernize the comms function and elevate the role of PR so that it becomes an essential and integral part of C-suite decision-making.
Earned Media Management has four tenets that make-up the systematic process. The four tenants include smart engagement, true measurement, comms transformation and influencer graph, which are all a crucial aspect of any PR campaign. The influencer graph component demonstrates how to best identify influencers based on their level of influence over an end-consumer. Additionally, PR pros will benefit from accurately crafting and pitching a multimedia-rich story and measuring results with performance benchmarks that prove a direct impact on bottom line business objectives.
PR pros must shift their current approach to identifying influencers by moving away from an outdated model that repurposes media lists and uses cold-calling methods to instead use a consumer-first model. This approach practically reverses the current outdated ways PR pros conduct influencer outreach. By doing so, PR pros will develop a deeper understanding of a brand's desired audience and can, therefore, find the right influencers.
The New Approach: End Consumers Should Drive Influencer Identification
Today's challenge lies in breaking away from a process that PR pros have become accustomed to when conducting influencer outreach. Many find journalists and influencers through a list of people they know and have previously worked with. Often, specific outlets are chosen mainly for brand name recognition. And in extreme cases, PR pros will email a very long list that contains every single media outlet and influencer they can possibly find. In either case, PR pros are hoping their lengthy lists of outlets and list of known contacts will help reach their targeted audience but have zero guarantee their goals will be met.   
Successful PR campaigns convey main key messages to a brand's targeted audience. Therefore, searching for journalists and influencers first is fundamentally flawed as the end goal is to reach the end-consumer. Instead of focusing outreach based on relationships or outlet notoriety, it is best to carefully consider who has the most overlap and influencer over end-customers..
The traditional model has been an industry norm and continues to be as Forrester's Oct. 2018 Opportunity Snapshot Survey indicates that 70 percent of PR pros depend on their existing influencer and journalist relationships to perform outreach compared with 52 percent who are using data from their end-customers to inform how to strategically communicate to influencers and journalists. Working backward and having the consumer-end audience dictate the list of influencers will prove to be much more effective. Now, more so than ever, influencer identification requires a systematic approach with the first step being to implement an Earned Media Management strategy.
What Is an Influencer Graph?
An influencer graph is a complete mapping between an influencer, their content, and the actual audience that consumes it. Finding the right influencers starts with identifying an influencer's audience and the brand's targeted audience to understand the overlap. And then, overlaying insight into how the targeted audience consumes and engages with the influencer's content. The ideal influencers will have the correct amount of influence over a brand's target consumer.
Reversing the Traditional Pitch Model
Today's traditional pitch model becomes completely reversed by turning the primary focus on identifying the audience first as opposed to journalists and influencers. By shifting focus on end consumers that brands hope to reach, communicators can start using new tracking technology such as Cision ID to measure their efforts in breaking through to a targeted audience. The first step involves optimizing influencer identification, which begins with asking yourself the following questions:
Who is your target audience?
What influencers reach your target audience? 
What content performs best?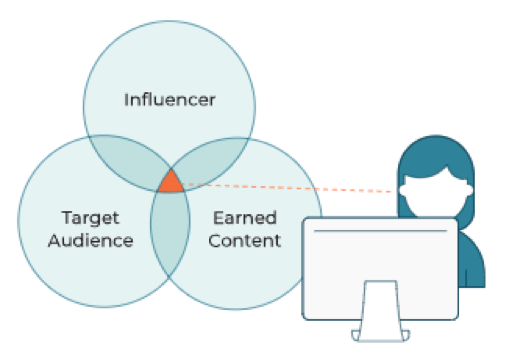 Understanding Your Audience
Having access to granular audience data is a turning point for the PR industry. Such data enables PR and comms professionals to better understand the audience they are trying to reach. Campaigns can be crafted through a data-driven approach that optimizes influencer outreach. Using technology that provides information on consumer behavior and demographic information allows PR and comms professionals to identify the influencers who are providing content to a brand's targeted audience.
Effectively reaching consumers can only happen if there is a clear understanding of their content preferences. Once their content preferences have been determined, a list of those influencers can then be established. Using the audience data gained as part of an Earned Media Management approach will prove effective and lead to meaningful results. Having consumers drive the list of influencers as part of a media strategy, as opposed to top tiered publications, will result most effectively over today's traditional pitch model.
To learn more, download our free whitepaper, Building an Influencer Graph: An Earned Media Management Strategy.


Kaila Garrison is the VP, Marketing Strategy and Operations at Cision. Garrision has a decade of marketing and business development expertise, with previous leadership roles at Oracle and Compendium Blogware. Garrison holds a bachelor's from Slippery Rock University of Pennsylvania.