Editor's Note: This post originally appeared on Forbes.com.
As marketers around the world descended on Adobe Summit 2018 in Las Vegas last month, it's indisputable that the rise of digital technologies has transformed their discipline. Just follow the money: Companies are now spending thousands or even hundreds of thousands of dollars on marketing technology aimed at improving advertising efficiency or building mobile, email and e-commerce experiences. In concert, chief marketing officers now see data science backgrounds on resumes alongside bachelor of arts degrees.
Yet, for all the marketing platitudes about making customer experiences more personal, most marketing messages remain focused on promotions. After thumbing through sponsored posts on Facebook or personal email inboxes stuffed with retail offers, some might conclude that digital technologies have simply made the delivery of transactional messages to consumers faster and cheaper than ever before. While there's "personalization" baked into the offers, most of these interactions lack a narrative or a story for the consumer.
Amid this digital onslaught, brands miss a massive opportunity to improve their customer experience by influencing the more authentic interactions consumers have with earned media -- that is, content that mentions a brand created by people who aren't paid by that brand, such as journalists, individual influencers and regular consumers. With 83 percent of people trusting recommendations from people they know overpaid and owned channels, brands must rethink their approach to earned media by making it a data-driven discipline that fits into their overall marketing and customer experience strategy.
How Does Earned Media Weave Into The Customer Experience?
Because brands don't control the messaging of earned media content -- such as news articles, consumer social media posts or product reviews -- marketers rarely consider it as part of the interactions detailed in customer journeys. Instead, they focus on a delivery cadence of their display ads, emails, website and mobile app messaging to customers. Since it's easier to see how those messages drive revenue, brand investment in earned media has been dwarfed next to paid and owned media. For many large companies, the earned media strategy itself tends to be reactive: If someone complains on social media or there is a PR crisis caused by an executive, the comms team comes in to clean it up.
But to look at earned media reactively, or to look at it as divorced from the customer experience, is a mistake.
Earned media can impact the emotional appeal people feel with a brand, influencing their behaviors and buying decisions. While marketers know this anecdotally, the power of these emotional interactions is now being studied and quantified. In 2017, after surveying thousands of consumers, Forrester Research concluded that brand attitudes (good or bad) are shaped by:
• Emotion: This is "the variety of emotions that consumers associate with the brand." According to the report, emotion accounts for roughly three-quarters of brand connection in prospective customers.
• Salience: How top of mind is a brand?
• Fit: This examines whether a brand is "relevant to a person's lifestyle as well as how well it meets tangible needs."
This model can easily be adapted to linking earned media to customer experience. As an example, imagine a new outdoor gear retail store opened up in a neighborhood. How might earned media impact the customer experience when applied to these areas of brand attitudes? Let's take a look: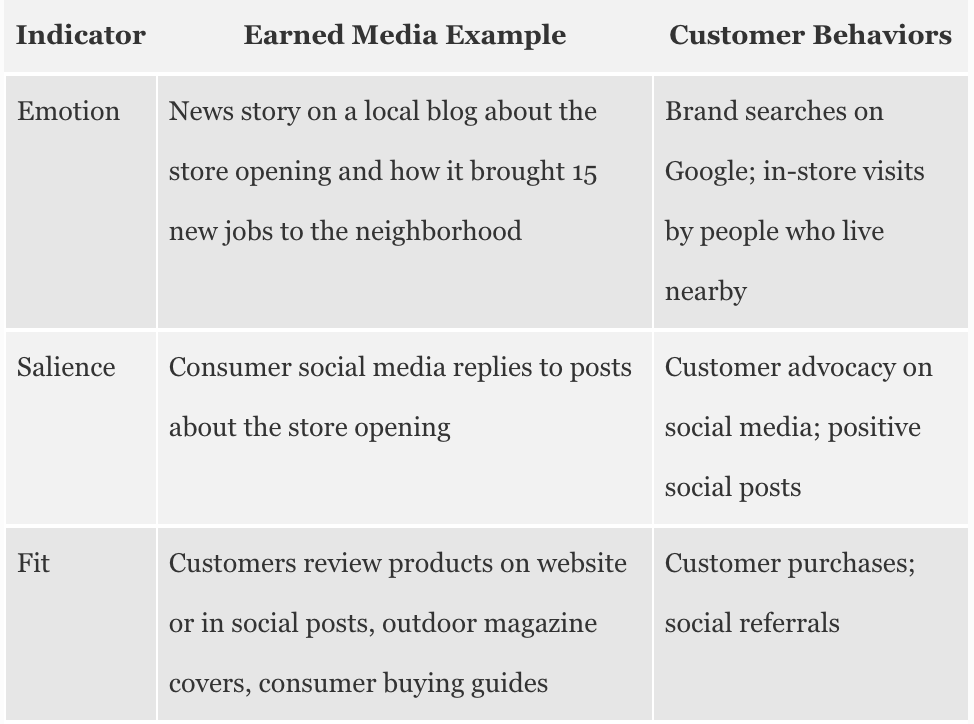 Brand marketers and communicators around the industry know the validation of earned media matters to the customer experience, providing more credibility than a paid advertisement or commercial.
The Art of Earned Media Requires Data-Driven Science
While marketing communications was founded on the art of influence, it now can utilize the science of data like paid and owned channels, which have been used for years. This means brands can move beyond traditional PR metrics like share of voice. The goal: Map earned media interactions back to key customer activities, including purchasing or improvements to brand reputation.
What's a new measurement approach? Since most earned media consumption now happens in a digital context, brands can track not only what ads were served to a consumer, but also what earned media content they see. They can learn about the demographics, behaviors and attributes of the people reading that coverage.
For example, if they know the exact audience that reads a news article, brands can see if the people who reviewed that content also performed valuable brand activities on owned properties, such as purchasing a product or posting positively about their experiences on social media. The best part for CMOs: As they learn more about audiences that consume their earned media coverage, they can use that data to evolve their advertising and paid media messaging.
As the move to digital continues, it's time for brands to elevate the role of earned media. They may find that the best story about their brand is one that isn't told by them.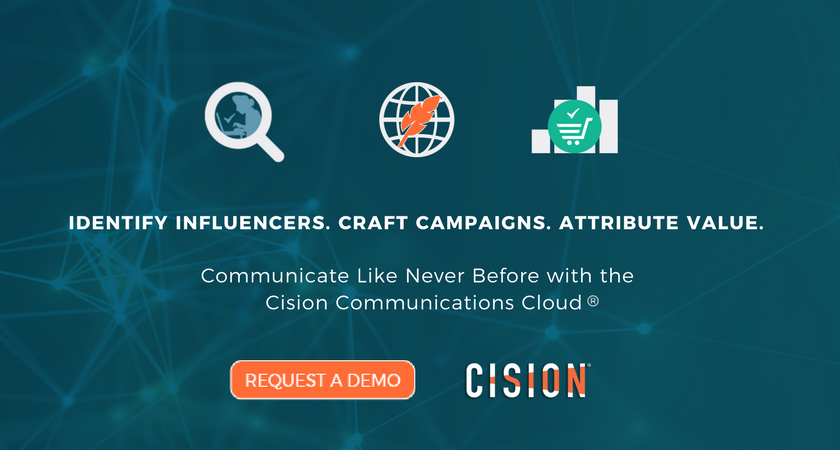 Chris Lynch oversees Cision's global marketing teams. Serving as Chief Marketing Officer, Lynch is responsible for Cision's global marketing strategy — spanning communications, product and digital marketing. Previously, he ran product marketing and go-to-market strategy for Oracle's Marketing Cloud business and also held leadership positions at companies like Badgeville and TIBCO. Based in San Francisco, Lynch attended Northeastern University where he received his Bachelor of Arts in Journalism. Follow him on Twitter @cglynch.