With the media landscape evolving at the speed of technology, communicators need to be able to listen dynamically to their audiences across multiple media channels. It's no longer just the mainstream media that needs to be taken into account. With social media and access to this information being so easy, anybody with a smartphone and an idea can become a viral source of news.
With Cision® Media Monitoring tools, communicators have the power to listen dynamically across different media types. More importantly, Cision Monitoring makes it easy to adapt accordingly to the messages that are circulating and refine that listening to stay ahead of key messages, preferences and trends that have the ability to affect your bottom-line.                                                      
Listen to Increase Customer Spend
Empowered customers are on the move. Recent studies by Forrester suggest that 40 percent of consumers in both the B2B and B2C space have a high willingness and ability to shift current spends. This means that listening to your brand's various audiences and understanding their needs is more important than ever. Unfortunately, with millions of conversations happening daily, it is near impossible for communications teams that aren't equipped with the right technology, to make sense of all that data. Even more challenging is taking advantage of this wealth of information in a way that drives audience engagement, loyalty and leads to bottom-line results.
It is no longer enough to keep track of your brand's mentions from big publications like the New York Times and the Wall Street Journal. In today's era, anyone with a smartphone can share news and by the time it makes it into the national papers and headlines, it's far too late.
Understanding your brand's audience is the key and keeping up with the trends, interests, and desires of these target buyers is what will garnish success. How to do that? It all starts with the news you are taking in.
Whether your business needs revolve around online, print, television and radio broadcast, or social channels including Twitter, Facebook, Instagram and YouTube, Cision® Communications Cloud will ensure the impactful conversations that affect your brand and industry will never fall through the cracks.
How to Create an Effective Monitoring Strategy
Once you have your bases covered, effective monitoring starts with planning the overall strategy. And while this may seem obvious, depending on your brand's priorities there is a lot to consider.
Look at The Past – Did your brand recently have any big announcements, product releases, awards, or other noteworthy news items? Use past media mentions to understand the keywords that are being used to talk about your brand.
Understand the Present – Where is your brand now? Do you have any ongoing campaigns that you should keep tabs on? Are there any thought leaders, brand ambassadors, relevant social media handles, or channels that are most relevant to your industry? Extend this outward focus to your competitors by tracking rival companies, products and spokespeople. Not only will this give you a leg up around competitive intel, but you can also leverage comparative analytics to evaluate more granular data like company mindshare and audience demographics.
Understand the Future – Thought leadership begins with truly understanding the industry you operate in and the challenges that consumers and companies face alike. It also involves paving the way for new ideas and opportunities. What are some of the main challenges across the industry currently? Will these still be present in the next five years? What else will the industry be worried about at that time?
Take a small coffee company, Candid Cup, for example. A search process for them starts with monitoring the name of their company, different names of the coffees they sell, and narrowing the search down to newspapers, online sites and social media. Once news around these searches starts coming in, they find that most of the neighborhood coffee talk is surrounding the new pumpkin spice latte at the nearby coffee shop, Morning Joe's. Taking this new-found data into consideration, they can now expand their search to incorporate "Morning Joe's" and "pumpkin spice latte" to see how the community is reacting to it. Through social media, they discovered that despite the overwhelming popularity of the fall beverage, the community seems to think that Morning Joe's version of the latte is too sweet. Taking advantage of this opportunity, Candid Cup made a less sweetened version of the pumpkin spice latte and promoted a half off special for its inaugural week. By listening and adapting to their audience's conversations, Candid Cup was able to convert many new regulars into their business.
Utilizing Best Practices
Dynamic listening allows your organization to keep up with conversations that can directly impact your brand. But with millions of conversations going on daily, monitoring isn't always as simple as typing in a couple keywords and hitting search. When monitoring strategies require more complex setups to track more niche topics, you need a professional team at your side to help your team optimize current searches you already have, as well as assist in building out more complex searches to ensure you are pulling in the coverage that is most pertinent to your brand and overall strategies.
Pairing the ability to dynamically listen to your audience, with a team of trained search professionals enables your communications teams to stay one step ahead in today's age of the empowered and ever-changing audience.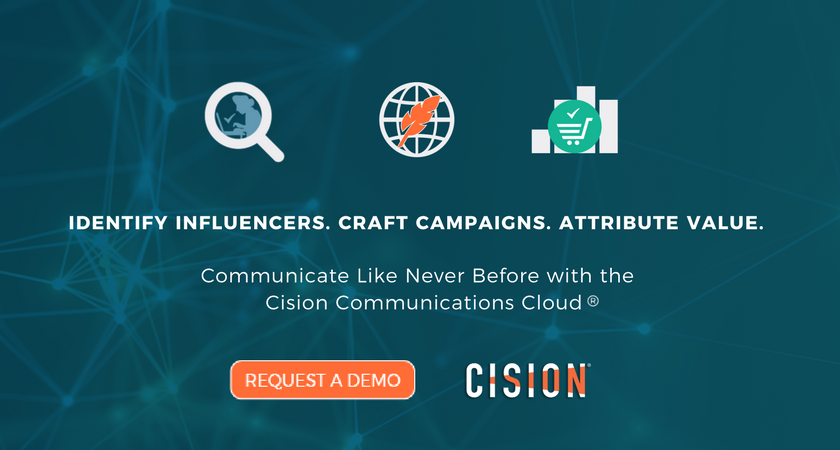 Lee Ribeiro is a Product Marketing Manager at Cision, where he manages content and communication channels between product and sales teams regarding product updates, new features, and positioning towards B2B and B2C audiences.