A web widget is a stand-alone application that site owners can embed onto a page to perform some convenient task.  You have probably seen Twitter widgets offering a mini-view of a site's feed sitting somewhere in the right hand column of a blog or news site.
Cision offers its own widget. The Cision Canada News Widget offers a mini-view of Cision's newswire feed, filtered to ensure the news releases that appear in the widget are a good fit with the rest of the site's content – or even the content on a particular web page.
A free source of automated content filtered for relevance: what's not to like?
Cision's Media Partners (those who install our news widgets) take advantage of the automated content as a free source of timely, relevant information of interest to their readers. Meanwhile, Cision Media Partners help expose our clients' news releases to a wider audience, expanding the reach of their news.
It's easy for a corporate website to become static and not all publishers have the time and resources to produce a steady stream of original content on a daily or even weekly basis. A widget can help enhance the homepage with real-time updated content released around the clock.
A Cision Media Partner, MasheadOnline.com recently reviewed the Cision Canada News Widget for their Gadgets blog. Reviewer Martin Seto suggests widgets "can help small publishers compete against the ad tech community's competitive advantage of free content".
Once embedded on a site page and configured to our Media Partner's liking, newsfeed widgets are updated automatically and operate independently from the rest of the site.
Keeping site readers engaged, entertained and most importantly, on your website
In most cases, automated content provided by an RSS or live feed will re-direct users away to third-party websites.
In our widget's case, when a visitor clicks on a news release title it open in a new page on the same site – so readers are not redirected to newswire.ca or to any other website. The content stays right there on our Media Partners' web sites, helping them to maintain their audiences. The news release display page also offers up an additional spot for them to post advertisements or other information essential to revenue or other site targets.
If your site succeeds in keeping visitors engaged enough to click around for a while, this time-on-site activity can actually increase your rankings on search engine sites like Google.
As you like it: content and style options to suit your site
Cision's news widget is unique in its customization abilities. Cision Media Partners can filter content in or out according to:
Location (Continent, country, province)
Language
Industry
Topic or subject
Company name
In other words, you can install a widget that delivers only your own news releases, or your entire industry but NOT your competitor's news, or everything but your biggest sponsor's biggest competitor's news.  Websites can be very political places. We get that.
Once configured and installed, the widget updates in real-time as suitable news releases cross our wire.
From a design perspective, Cision News Widgets can be created to blend with our Media Partners' site style by adhering to the existing webpage's fonts and colours, if desired. Below are two examples where the widget has been tailored to adopt site styles (orange border for emphasis – is not part of the design):
National Post: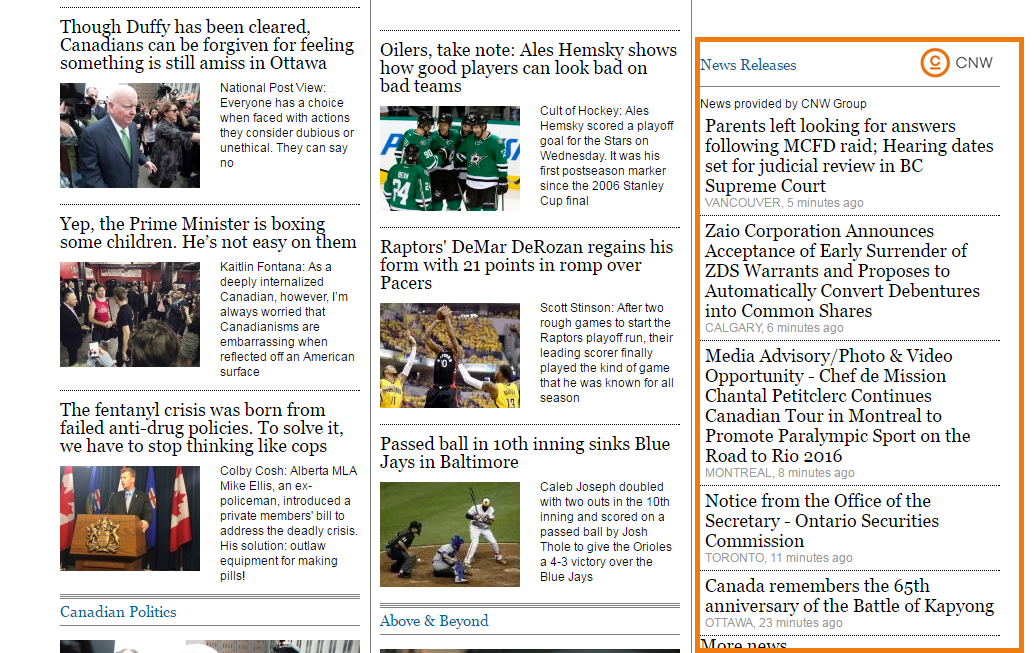 Automobile Journalists Association of Canada (AJAC):
Montreal Gazette: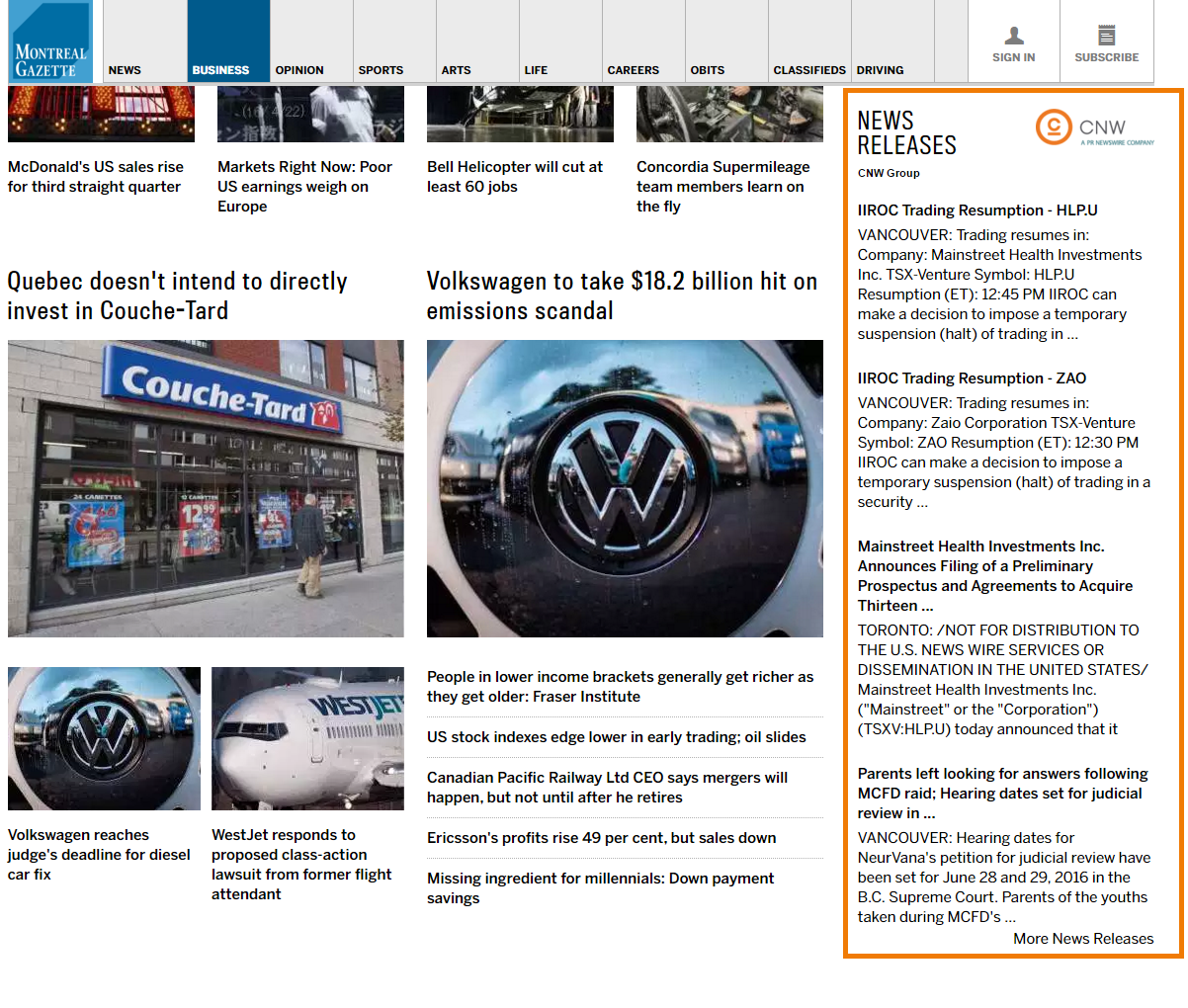 Be a Cision Media Partner
Our media partners include well-established media organizations such as Postmedia, Thomson Reuters, Dow Jones, Bloomberg, and the Globe & Mail. We're also thrilled to be added to influencer sites like Trusted Nerd, Small Cap Power,  and TV, eh?

Nadine Touisgnant is Senior Manager, Media and Audience Relations at Cision. She is based in Montreal, Quebec.