With so many people on social media, how can you choose the right influencers — and make sure they promote your clients' products in the right way?
Every October, Starbucks launches a new holiday cup, usually with some eye-catching design. This year's version resembles an adult coloring book, where customers can add their own flair to these color-in cups. While the coffee giant tends to get a lot of press whenever these cups are released, it decided to do something extra this time: engage with social media influencers.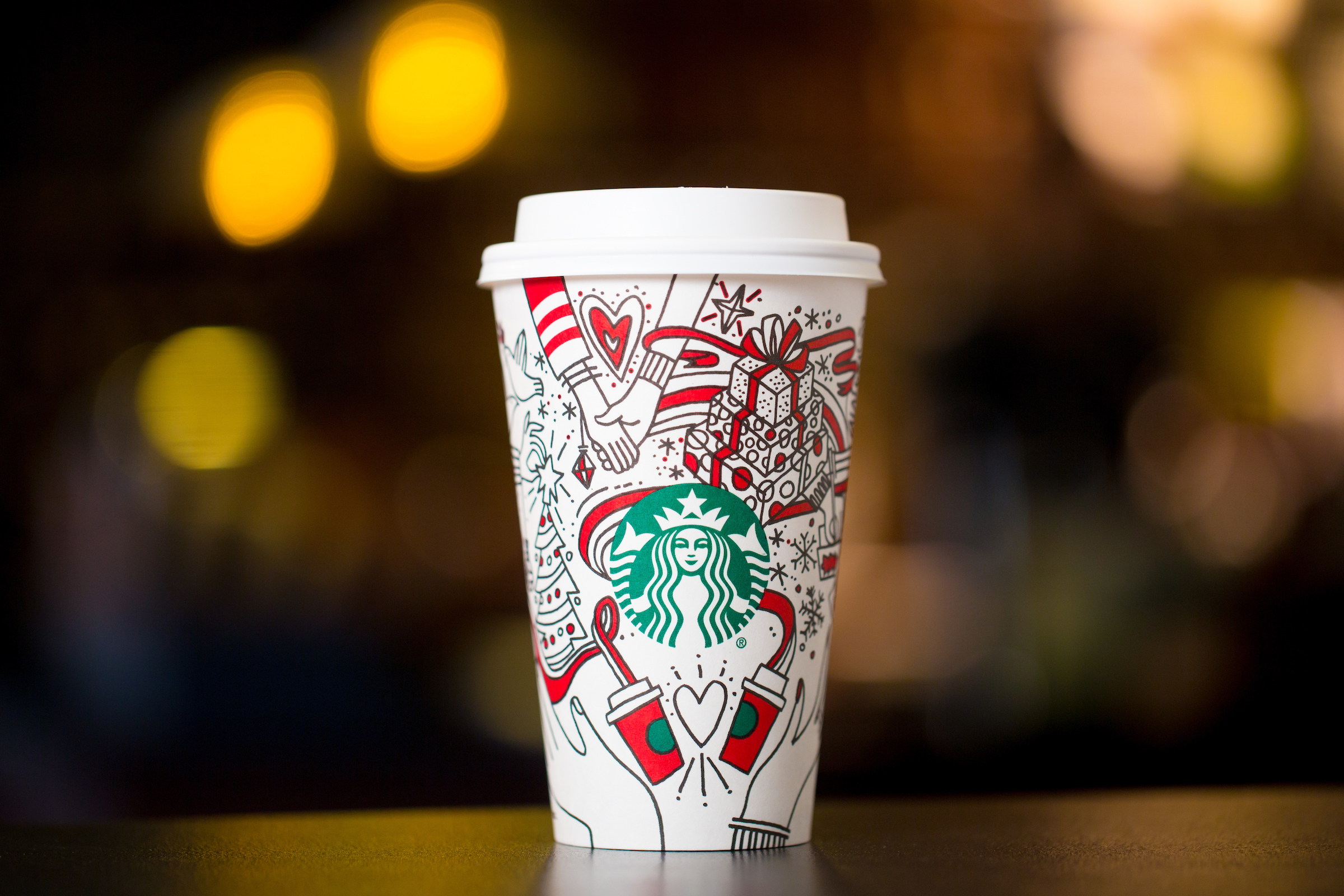 Credit: Starbucks
In Canada, public relations firm Media Profile was tasked with finding influencers — people who have an active social media presence with a lot of followers — who would receive a cup before launch, color them in and post their designs on their Instagram feeds. They contacted people with sizable followings and who had previously shown an affinity for the coffee company, with the hopes of creating some additional buzz around the launch.
"We wanted to tap into existing relationships and offer people something a little special — give them a sneak peek before everyone else," says Maxine McDonald, a Toronto-based director at Media Profile. "It was successful — they shard content on their channels and they were retweeted."
This is one smaller example of a growing number of influencer campaigns, where public relations teams and the brands they work for use people with sizable Instagram, YouTube and Twitter followings to promote products, cover events or present a company in a positive light.
While hiring influencers isn't new — technology and parent bloggers have been doing this for a while — with so many more people on social, using well-liked personalities is becoming an even bigger part of the PR person's job. McDonald says that about 25 per cent of the work she does now is focused on influencer marketing.
More Influence With Influencers
A lot goes into creating a successful influencer relations campaign, but do it right and you may find that people engage more in this way than they do via traditional media relations.
Studies have found that influencers can make an impact. 48 per cent of comms pros globally said paying influencers is an important part of their influencer strategy.
Maggie O'Neill, managing director and partner at Peppercomm, a New York-based communications agency, does find that many people are more engaged with influencers than with traditional media. She says that while people may read a story, they don't always share it online. Many social media users, however, do share images or posts they like.
"With influencers, we see posts spread more – people tend to share," she says. "As well, millennials tend to value their opinions more."
How to Engage Influencers
The first step in creating a successful influencer campaign is to figure out who you want to target. Is it the masses? Industry insiders? A certain kind of crowd?
In many cases, companies do indeed want to get their products in front of as many eyeballs as they can, which in that case they'd want to engage with a highly followed Instagrammer who can show off, say, a new clothing item or tech gadget. In other cases, though, follower count doesn't make a difference. Some brands prefer using micro influencers, which is someone who may not have a large following but are followed by other influential people.
For instance, Greg Matusky, president and founder of Gregory FCA, an Ardmore, Pennsylvania-based public relations firm, is creating an awards program and gala dinner, on behalf of a software company client, for leading dentists. The hope is that these dentists will attend the dinner and then talk about the award on their social accounts. That will spread brand awareness among other dentists – and most are followed by their peers. Some may also end up buying the software or telling others about it.
"By recognizing influential dentists and networking with them, and listening to what they have to say, we're building relationships that would have taken a long time to create," he says. "Now we can find (influential) individuals and proactively build a relationship with them."
Finding the right influencers, though, does take some work. Once you decide on whether to use someone with a mass following or more of a niche one, you'll need to present a few options to clients. One way to identify people is to simply go on various social media sites and see what people are tweeting about. Follow different hashtags, see what other brands they may be representing and have a look at their follower lists to see who's listening to them.
There's also software, such as Cision's Communications Cloud, that can help identify influencers. It can tell you who's talking about what topics, people can be sorted by follower count and you can easily view biographical information and previous posts. O'Neill uses several different tools to identify influencers including looking at topic groups — like parent bloggers or foodies — that have a variety of people she and her client can work with.
"We look across the spectrum for top tier influencers that have both reach and engagement, but we also look at mid-tier and micro influencers who can make an impact on a specific category," she says.
To Pay or Not to Pay
Increasingly, influencers want to get paid for promoting a brand.
"It's the first question out of their mouth," says Matusky. "More and more influencers know what they're worth and they want compensation."
His firm doesn't get involved in the paid aspects of influencer relations — he wants to use people who might want to, say, try a new product first versus getting money for their posts — but PR professionals are often tasked with negotiating rates or, for the more sought-after influencers, working with managers. (Yes, some influencers have managers.)
At one time, it may have been strange or seemingly unethical to pay an influencer to promote a product, but influencer relations is not the same as media relations — most of these people want something in return, whether it's money or goods. And that's perfectly fine as long as the client wants to pay, says O'Neill.
Prices range, but anything above $25,000 per campaign is moving into celebrity endorsement territory, she says. Most campaigns can be done for below that amount. What's more important, though, is that the influencer disclose the relationship upfront, on their feed. Consumers are fine with someone getting paid, they just don't want to be misled.
"People don't want to feel like the wool is being pulled over their eyes," says O'Neill. "If influencers are forthcoming — they can say they're working with a certain brand — then consumers are open to that and believe that the people they follow are doing it for the right reasons."
Create Guidelines
One of the advantages of paying an influencer is that you have more control over what they do. That means detailing how many times they should post, what products they should be promoting, which hashtags they should be using and on what dates they should be uploading content.
"It's important to have clear guidelines and be direct on the ask," says McDonald. "Be clear on deliverable dates and get it all in writing."
If it's not a paid arrangement, you can make suggestions on how you'd like the person to interact with the brand, but they will retain more control over how they post and when. They may not show you the images they've taken in advance, for instance, wherein a paid setting, companies can go back and forth with the influencer to make sure images properly represent the brand.
In either case, PR professionals will likely need to provide background material on the company or product they want the influencer to promote. Unlike with journalists, who tend to be knowledgeable in a topic area, influencers are often "subject matter enthusiasts," says McDonald, and not subject matter experts.
"Brands need to take some time to make sure they're providing influencers with the necessary information to get them comfortable with the subject," she says. "Clearly outline any key messaging you need them to incorporate in some way."
Go Beyond Social
While influencer relations is centered mostly around social media, there are other ways to use these types of people to promote a brand.
One of Matusky's clients, a sportswear manufacturer, wanted to promote its e-commerce site. Matusky reached out to several fitness buffs — mostly fitness instructors who have followers, but not a celebrity-like fan base — and asked them if they wanted to design their own sports clothing. The brand then helped their influencers design their own line of clothing and even set up an online store where those items could be sold. While these instructors weren't paid upfront, they did receive a portion of the sales they made.
This worked for several reasons: the fitness instructors could differentiate themselves from their peers, they could monetize their following by offering them products and they could create clothes for nothing, something they wouldn't have done otherwise. The athletics brand drove thousands of people to their online store, where customers would buy their fitness instructors' clothing, and then see what else the company was selling.
While social media certainly played a role — these influencers posted their designs on their social sites — it wasn't the centerpiece of the campaign.
"It's important to place product, but that's an easier, quick hit solution," he says. "The real art is engaging influencers and delivering value. By going the extra step, you give back to their community and show you're in it for mutual success. You're not begging them to simply post your product."
Set Measurements For Success
For all the time, energy and costs that go into creating an influencer-related campaign, you better hope it works. But how can you measure whether the campaign is successful or not? 63 per cent of comms pros cited the inability to measure impact effectively as one of the three most difficult challenges they face.
Most people start by looking at impressions and engagement. If a post is shared widely, if it receives a lot of positive comments, if it's being retweeted or regrammed — those are all signs that something's worked, says McDonald.
Other times, though, success may be determined by how many times people click on a URL embedded in a post or if certain people — like other key people in the influencer's network — comment on a tweet. Matusky's dentist client is basing success partly on how many dentists he can get to come to the gala dinner.
In any case, it's important to set key performance indicators in the initial stages of a campaign.
"Success looks different for each campaign, but it's always defined before we go out and interact with influencers," says McDonald.
Let Your Influencers Influence
While more PR professionals are having to engage influencers, in many ways, it's not that different from working with media, especially if money is not being exchanged.
Most influencers want to try products they care about — and many are looking for the next big thing to show their followers, in the same way a technology reporter may be looking for the next trend, says Matusky. He's found that if a product isn't right for an influencer, they'll tell you.
"They will let you know, in no uncertain terms, whether it's right for them or not," he says.
Like journalists, influencers often have a deep interest in the topic area they're covering and that often comes out in the content they're creating, says McDonald. While some brands may want to control an influencer, she says that, generally, they should be left alone to create their own content.
"You wouldn't call an editor and say use this headline and these people in a photo," she says. "I don't think brands should do that to influencers either. They need to be able to have the freedom to create content in a way that's going to resonate with their audience."
Ultimately, success often comes down authenticity and choosing the right person to promote a brand. If the influencer you use likes your company and can create content as he or she sees fit, then success will come.
"At the end of the day, choose wisely and pick an influencer who has a natural affinity to your brand and shares similar aesthetics and language," says McDonald. "Give them the freedom to create, within certain boundaries, and you'll be pleased with the outcome."