On May 26th, the Radio Television Digital News Association (RTDNA) presented survey data collected from Canadians by Ipsos Global Public Affairs about the public's trust in the country's news media industry and the proliferation of fake news.
A panel moderated by Catherine Cano, CEO at CPAC, included Troy Reeb, Senior VP, News, Radio and Station Operations at Corus Entertainment Inc., Jennifer McGuire, General Manager and Editor in Chief at CBC News, Wendy Freeman, President, CTV News at Bell Media, and Darrell Bricker, CEO at Ipsos Global Public Affairs. Here are some key takeaways for both Canadian journalists and PR pros:
Most Canadians still trust traditional news media
Despite the growth of social media, fake news and alternative facts, 69 per cent of Canadians continue to trust traditional media – and this remains unchanged from a 2008 Ipsos poll.  "If people want the fact, they go to traditional media," said Bricker. However, that stat only accounts for Canadians over the age of 35; only 59 per cent of millennials trust in traditional news media.

The frequency of trust was steady across all age groups: traditional news sources are trusted more often than online or social media sources.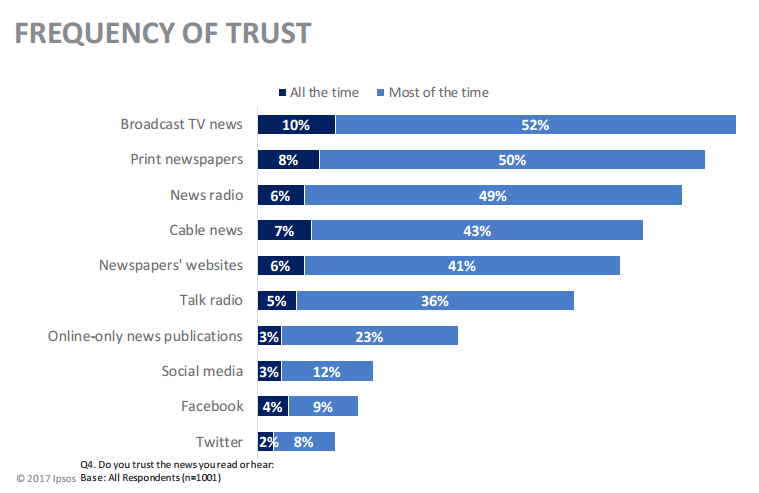 Compared to Americans, Canadians are more trusting of broadcast, news radio and radio, but less trusting of newspapers' website, online-only news and Facebook.
Bricker cautioned the media about focusing so strongly on digital as it may dilute the credibility of traditional media outlets, but McGuire disagrees. "We need to bring our strong brands and their credibility over to the digital space," she said. "Trusted branded need to be everywhere so they can be consumer anywhere," added Freeman.
Communicators are often given the same advice; be where the consumer is. It's important to provide multichannel pitches to media, since they're striving to meet the public wherever they consume news.
Broadcast TV News & Facebook most common news sources
Amongst all respondents, Broadcast TV leads the pack as Canadian's go-to source for news at 58 per cent. Freeman, Reeb and McGuire all agreed that broadcast ratings are up, but they still need to find ways to monetize it. "We're trying to spread out our news schedule, since more than two-thirds of the audience in outside our ad demographic," said Reeb.
Alternatively, millennials are going to Facebook 61 per cent of time and broadcast only 39 per cent of the time. "Collectively, the media needs to do a better job of standing out on digital," said Reeb. "Facebook trust and consumption levels remain incredibly valuable to us," added Freeman.
For PR pros, understanding who audiences trust and how often they access certain news mediums is imperative when building targeted media lists and conducting media outreach. Brands too need to stand out on digital, but also must create content that satisfies Facebook's ever changing algorithm. In fact, the company's latest algorithm change focuses on how "meaningful" and "informative" a story is and will penalize headlines that "exaggerate or sensationalize an article to create misleading expectations."
Local news is still king
Despite the closure of many local news sources and more reliance on national/international content for stories, Canadians say that 45 per cent of all their news is consumed from local sources.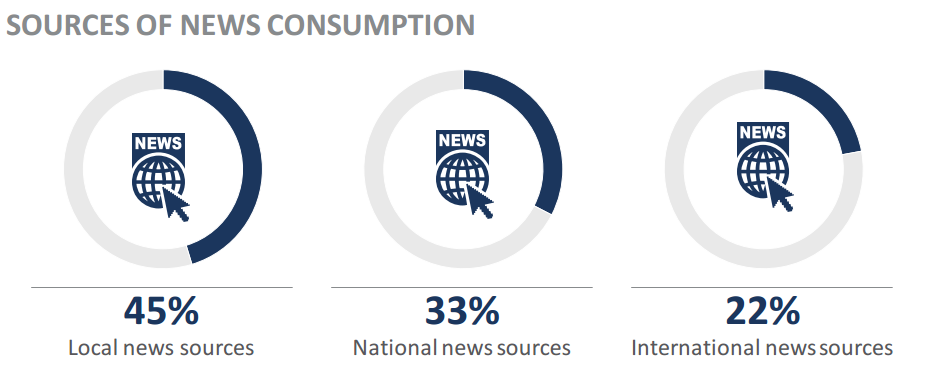 The panelists all agreed that local news media has taken a hit over the years, but news organizations are looking to re-invest where they can. Recently, CTV and Rogers Media announced major expansions for local news stations and programming.
Local angles are valuable to Canadians, so keep them in mind when regionalizing your communications campaigns; don't count them out.
Majority of Canadians can't spot fake news
Even though 81 per cent of Canadians reported that they were confident in their ability to distinguish between legitimate and "fake news" only 37 per cent could deliver on this promise when put to the test.
English-speaking Canadians were shown a series of six images from news websites and were asked to identify which ones were fake news.

"When put to the test, most Canadians, regardless of gender, age, education level and region, failed to distinguish real and fake news stories," said Bricker.
Furthermore, 35 per cent of Canadians admit that they have no idea how to distinguish between real and fake news. More than one in four Canadians felt that if they disagreed with a story, it was likely fake.
The solution may lie in raising media literacy amongst the public, especially in young people, who were some of the poorest performers on the Ipsos test. "There's something to be said about media literacy, and critically thinking about media for younger generations, who may never come to traditional broadcast news as a primary source. "said McGuire. "We all need to work together to combat fake news," added Freeman.
There are many ways for PR professionals to help support the cause. For one, distribution is still a powerful way for brands to cut through the noise and share credible, accurate news with journalists. By providing clear attribution, a straightforward headline, an authentic voice and distributing through a reputable source, you can demonstrate credibility and strengthen your relationships with journalists. Getting your account verified on social networks and maintaining a steady cadence of communication with your audience will also help add legitimacy to your message.