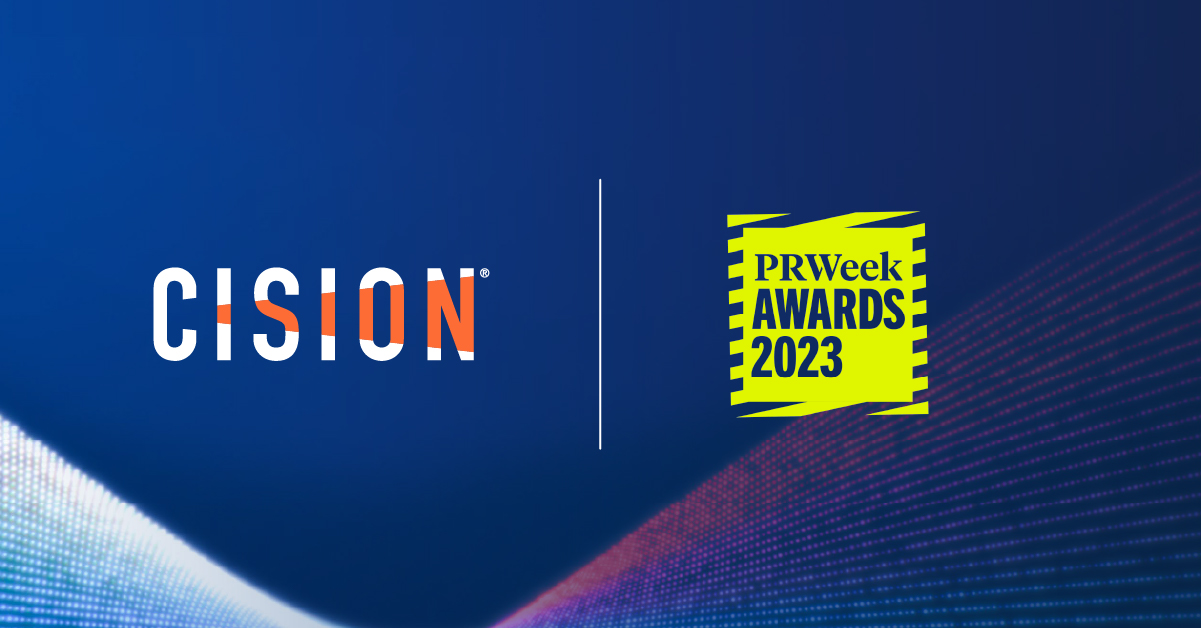 At Cision, we believe the practice of communications can be a significant driver of progress for a company or organization. Through PR strategies and campaigns, entities of all sizes invite stakeholders to engage in dialogue about essential elements of their brands.
In 2023, I was honoured to be asked to participate in judging the PRWeek Awards that celebrate the best of public relations and communications. It was a tremendous opportunity to observe campaigns across a wide variety of sectors that speak to many different stakeholders.
I noticed a number of themes across these best-in-class campaigns—those whose results indicate that they had the biggest impact on their audiences:
Investment in resources (financial or human capital) isn't necessarily the determining factor of success. Ingredients like planning, the application of data-driven insights and authenticity of voice are often more important.
The thoughtful application of data-driven insights, including a deep understanding of the audience (their sentiment and beliefs, their behaviours, their habitual media consumption) is critical to shaping the right dialogue.   
Voice matters. Whether messaging is coming from employees, customers, company leadership or even celebrities, a strong message delivered through an inauthentic voice will not be heard.
The best campaigns are two-way dialogues. Stakeholders will respond to messages a business or institution shares, and the people who share it. Smart communicators know that listening to responses can provide a gold mine of information that allows for evolving strategy, driving enduring impact and building trust.
I have a unique perspective as both the CMO of Cision—the leading communications and media intelligence solution that powers many of the world's leading brands—and as a frontline corporate communicator. While not easy to achieve, I believe strongly that marketing and public relations professionals should continually strive for excellence, as excellence will fuel the progress we seek for our organizations and the stakeholders we serve.
- Putney Cloos, Chief Marketing Officer, Cision
What Excellence in PR Looks Like, According to PR Leaders
Cision asked the leadership of some of the 2023 PRWeek Award nominees, selected for their excellence in PR strategy and communications, for their thoughts on what it means to be "excellent in PR." Here is what they had to say:

"Excellence in PR is about using communications to drive change. It is crafting messages that resonate in meaningful ways and leveraging the most current communications tools, technologies and channels to drive visibility. Ultimately, excellence in PR can bring awareness to important issues, drive conversations around society's challenges and push audiences to take meaningful action."
- Jane Barwis, President & CEO, BRG Communications

"At Ruder Finn, we define excellence in PR as the use of communications to build bridges and bring people together in a fragmented world. Communications efforts need to have an authentic impact to be truly helpful amidst a polarized society. It's imperative for communicators to be forward-thinking, creative and curious, and adoptive of new technologies and tools, to help companies and leaders transition from what's now to what's next."

- Kathy Bloomgarden, CEO of Ruder Finn

"PR can be a catalyst for brands and movements that challenge systems of oppression and advance new solutions for the betterment of society and our planet. When media strategies utilize advocacy to change laws, lives and livelihoods, that is excellence. We need more firms that focus on impact first, profit second."

 - Jess Montejano, President, Riff City Strategies


"At Curley Company, we focus on intentionally excellent client service—which means we advocate for total integration into our clients' business. We immerse ourselves in understanding their goals, executive priorities, policy initiatives, growth strategies and more, so that we can create truly transformative campaigns that have a real impact on our clients and communities. At the same time, as leaders in an industry responsible for shaping perspectives and influencing audiences, we must continue to mentor and invest in the next generation of professionals who will carry the responsibility of communicating through times of challenge, uncertainty and change with courage, integrity and creativity."

- KayAnn Schoeneman, President, Curley Company

"As an agency, we pride ourselves in creative campaigns that are driven by research and data. We don't measure success in impressions but rather tangible business results.  Our campaigns drive sales or reservations. Those are the KPIs we look at and are why PRovoke Media said 'Zapwater is one of those agencies that genuinely punches above its weight with the calibre of its work. [the agency] consistently goes toe-to-toe with agencies many times its size.'"

- David Zapata, CEO, Zapwater 


"Excellence in PR at the individual level can be viewed two ways. There's the tactical acumen pertaining to data and analysis, creativity and business leadership. Just as important, though, is bravery. The best PR pros have the courage to be their boss' boss when the situation demands it. To not only be the most informed person in the room at pivotal moments, but the confidence to know they are."
- Gideon Fidelzeid, Editorial Director, Business Media Group Custom, PRWeek and host of the PRWeek Awards
Find out why these award nominees rely on Cision to help shape their PR and communications strategies.