If you're looking for new ways to amplify your press releases, Guaranteed Paid Placement Canada, is a great way to reinforce your brand. Not only can Guaranteed Paid Placement expand your reach and visibility using native advertising, they can also be placed on premium Canadian publisher websites.
What is Native Advertising?
Native ads seamlessly blend into the content that a user is viewing on their mobile device or desktop. They look and feel like the content a reader is already engaging with, however, they're actually a paid advertisement. Given their subtle appearance, a user is more likely to pay attention to them, and they won't feel like they're being served an ad.
As the web continues to evolve, the relationship between brands and consumers is also continuing to transform. Consumers are tired of being 'sold to' and the traditional methods of advertising have become all too predictable.
Furthermore, with the pervasiveness of thought leadership and content marketing, it's common now to see native ads in social media feeds, or recommended content on a web page. As such, they are a great solution for educating audiences and can be used to convey information and answers they might be looking for.
What are the forms of Native Advertising?
In-Feed
These are ads occurring within a stream of content. They are the most common format of native advertising, primarily because of their "mobile-first" approach and their ability to drive users to advertisers' owned media properties.
In-Ad Native
These ads occur within a display inventory of a given page. Just like in-feed native ads, in-ad native uses elements like image, headline, body and a brand logo to match the look and feel of the media format they appear in. What makes in-ad different is where on a page it appears. Rather than showing up in a content feed, in-ad native ads appear within the display inventory of a page.
Content Recommendation
Content Recommendation ads are typically found at the footer or side of a landing page. Content is shown as recommended by the publisher. Content recommendation ads are usually found at the bottom of an article or in the footer of a landing page and appear as a content discovery widget.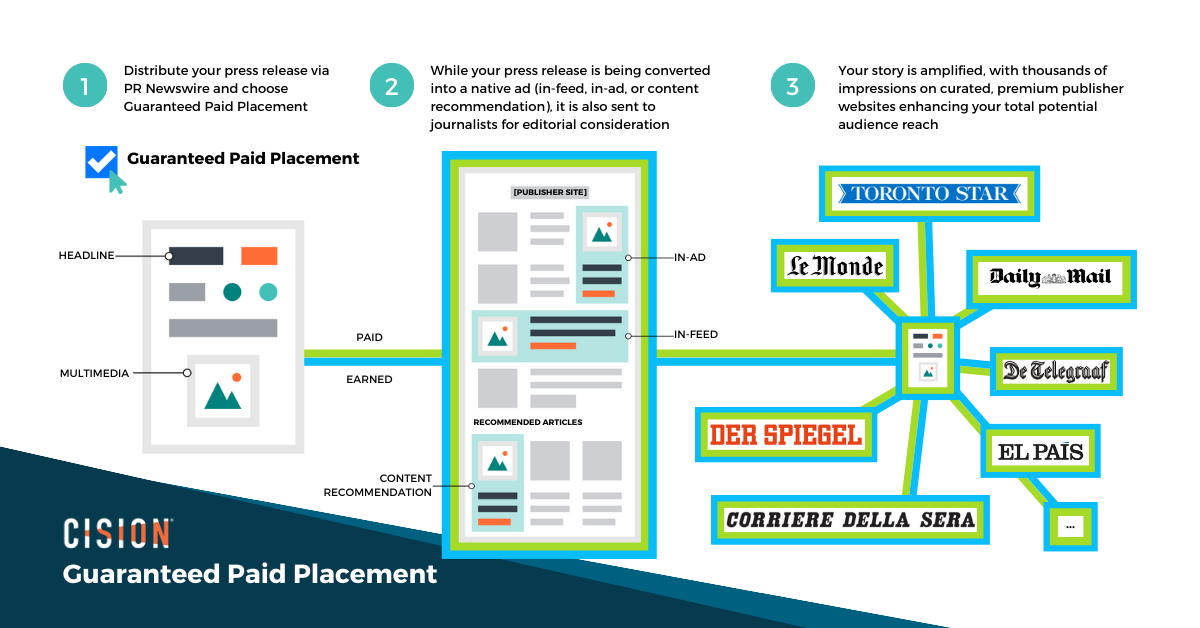 Amplifying your story has never been easier
Regardless of which ad format you choose, when you pair Guaranteed Paid Placement with a news release they can help you build your audience, drive an action, or promote your content marketing efforts. Furthermore, when a native ad appears on a publication that a user trusts, readers are more likely to trust content or promotions that are promoted by that publication.
Ready to get started?
Guaranteed Paid Placement Canada is a powerful tool to supplement your press release distribution. Not only will these native advertisements drive brand awareness and increase visibility of your story, you'll also reach Canadian audiences in previously untapped markets in a new, trusted way. Check out a sample of the publications where your release could be placed.