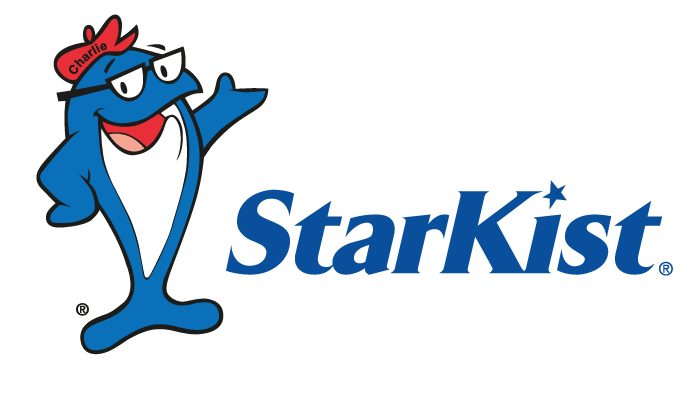 StarKist Co., is a food company focused on healthy, shelf-stable seafood products. Deemed America's favorite tuna, StarKist's® charismatic mascot, Charlie® the Tuna, swam into the hearts of tuna fans in 1961 and is still a favorite today.
CHALLENGE
Breathe new life into a well-established brand icon
StarKist's Charlie the Tuna is a branding legend associated with one of the most recognizable phrases in American pop culture: "Sorry Charlie. ®"
Maintaining Charlie's popularity over time involves strategic marketing campaigns that build on his fun-loving character. StarKist's success relies upon consistent messaging across all channels, and the ability to evolve the brand in today's progressive consumer market. StarKist also recognizes the importance of establishing a strong emotional connection with target audiences by bringing an authentic message to the forefront of all campaigns.
The StarKist team sought to create a campaign using current events to connect Charlie (and StarKist) with a broad consumer audience, while epitomizing his best-loved traits for maximum appeal.
APPROACH
Generate buzz with a campaign microsite
Capitalizing on the volume of conversation around the U.S. Presidential election, StarKist, together with social agency Gatesman, launched a lighthearted campaign to promote Charlie the Tuna's run for the presidency.
"Charlie and StarKist are known for their nostalgia and fun, engaging essence, so the campaign was a way to bring that to life. Even though the election was serious and intense, we felt it was important to tap into a real-time event while also bringing our audience some levity," said Desiree Bartoe, PAVP, Group Account Director, PR and Social Media, Gatesman. The company created a multiphase campaign in order to generate buzz, engage its current social audience and grow the StarKist community as a whole.
To launch this campaign, StarKist leveraged Cision Distribution by PR Newswire's Campaign Microsite, a dynamic web page that can be updated with new content as the campaign progresses. The Campaign Microsite product also includes tools to increase views, collect lead information, and drive audiences to take action.
"We focused on truly understanding our audiences and pinpointing exactly what type of media they were engaging with, along with where, when and how," said Bartoe. "The Campaign Microsite provided StarKist with the perfect platform to disseminate its campaign messaging through all channels, allowing StarKist to elevate its positive perception and extend its reach."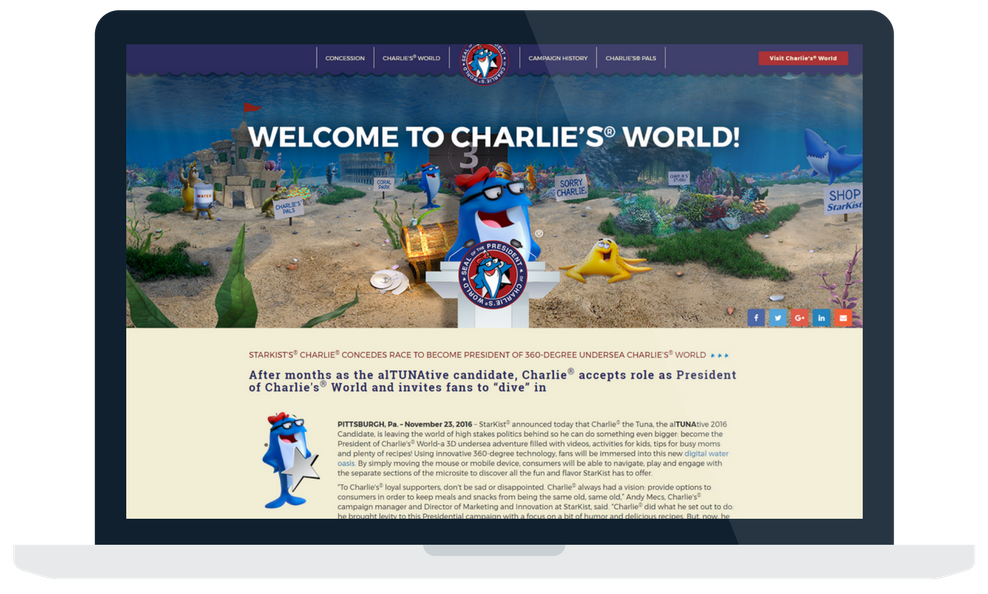 The purpose of the campaign focused on three primary objectives:
Drive brand awareness and affinity for StarKist and Charlie the Tuna
Reinforce StarKist as an innovative and modern marketing company
Drive awareness and visibility of StarKist's pouch products
"Many are aware of canned tuna products that are a staple in your pantry, we wanted to go beyond that and introduce the StarKist pouch as an on-the-go snack or meal," said Bartoe. "We were not only rejuvenating Charlie, but also updating the perception of the brand by showcasing its newer, innovative products, the pouch."
The Campaign Microsite served as an initial distribution channel for each phase of the campaign, as well as a content hub for information ranging from infographics to images and video that StarKist audiences (consumers, new potential audiences, and media) could engage with. While the content continually refreshed, the overall branding of the Campaign Microsite remained the same. Each update received national wire distribution, Times Square photo distribution, SocialPost Tweet and Online Video Distribution. Special attention was paid to the mobile version of StarKist's microsite to ensure it was perfect on all screen sizes.
"While the overall campaign was carefully mapped out, using the campaign microsite gave us the opportunity to analyze the impact of each phase and understand how our audience was engaging with our content," said Bartoe. "That flexibility helped us optimize each phase of the campaign."
RESULTS
Making over 336 million impressions using one dedicated tactic
"Leveraging Cision's team of experts was very valuable to us. We relied on the team to help us execute our strategy and really customize the campaign to our needs," said Bartoe. "The team helped guide our layout and approach, and the Microsite was an invaluable tool that served several different purposes, driving us to success."
Average 10% engagement rate on social content
336,000,000 impressions
Over 21,000 unique campaign site views
More than 750 website pickups
150 Tweets generating 133,000 impressions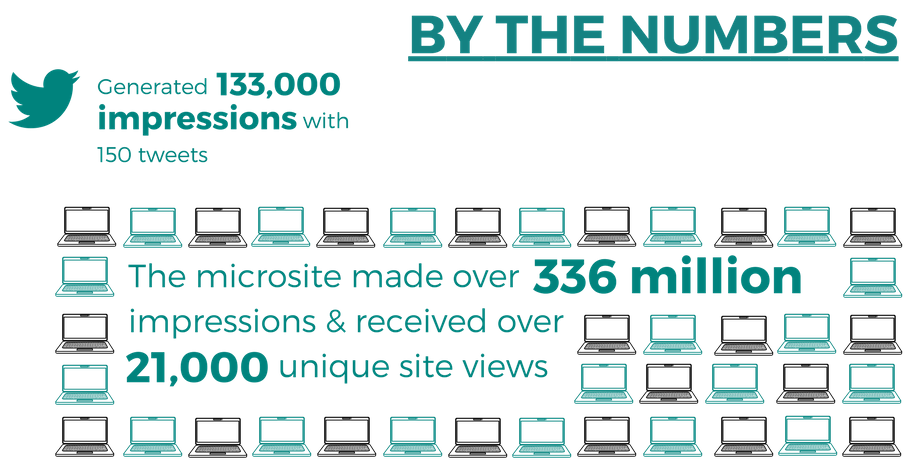 "Working with Cision was an extremely positive experience. We launched the campaign in real time and the Cision team was very supportive of our short time frame and took minute-by-minute updates from us," said Bartoe. "The fact that they are flexible, knowledgeable and organized helped create an efficient and streamlined process for our team."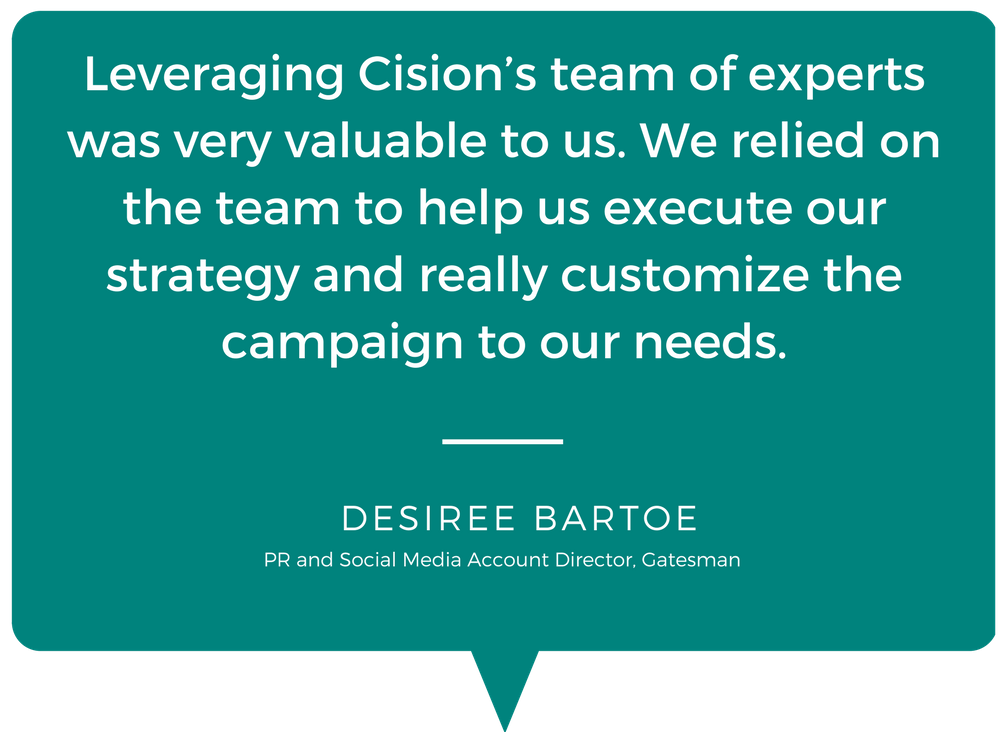 FUTURE PLANS
"Not only did we use the campaign microsite for our specific campaign, but we also used it as a forward-looking tool to propel and keep our audience connected to the brand," said Bartoe. "We looked at how this campaign would roll into additional communication strategies for the remainder of the year, and the last campaign update served as a transition into Charlie's World."
Bartoe shared this piece of advice: "Consumers are being targeted with thousands of messages every minute. If you don't have a way to reach your audiences and break through the clutter, people will not see or engage with your content. As the Cision team taught us, 'If content is King, distribution is Queen.'"
"Cision provided us with distribution that had a really broad reach. Great SEO helped with getting the word out -- and getting into inboxes of relevant media, all while providing visibility to our consumers and creating a content hub/foundation to access all assets of the campaign."