Thirty-One Gifts was founded with one goal – to help women by giving them the opportunity to run their own successful businesses. Thirty-One Gifts is now one of the world's largest direct-selling organizations. It offers purses and wallets, totes, home organization solutions and décor, thermal bags, jewelry and more.
CHALLENGE
Connect with the right bloggers in an efficient way
Retail marketing is a crowded space that requires particular savvy from its communicators. The right influencers, those whose content has direct appeal to target audiences, can be just the boost a brand needs for its campaigns.
"We found that working with bloggers in addition to working with traditional media is a great way to reach our targeted audience. Bloggers can augment our retail sales strategies and reach our demographic perfectly. It's important to maintain a presence in digital media to keep top-of-mind awareness of our products," said Sara West, Public Relations Senior Manager for Thirty-One Gifts. "Finding the right bloggers requires a lot of in-depth research and time. I'm responsible for working with media and influencers to pitch and place articles and product reviews, as well as coordinate media appearances for our entire sales field of more than 72,000 in the U.S. and Canada, I need to be as efficient as possible in all aspect of my job."
APPROACH
Consolidating tasks within a single platform
Thirty-One Gifts turned to Cision Comms Cloud™, an all-in-one communications workflow platform, to get more done with limited time and resources. They used the platform to manage myriad tasks, such as monitoring news coverage, discovering and targeting reporters and bloggers, and reporting on campaign results.
Monitoring:

Thirty-One gifts uses the monitoring function of the platform to collect their own media coverage but more interestingly, they use it to glean useful insights from coverage generated by competitors and the industry at large.
"In addition to getting twice-daily reports of our news coverage, I also monitor competitors and I watch our social media," said West. "We use the competitor's coverage to compile databases of the bloggers who work with our competitors in order to pitch them as well. The competitor reports also keep me apprised of what's happening with their businesses and the direct-selling industry. I often share news I see in those reports with executives at our company."
This level of continuous insight keeps Thirty-One Gifts on top of their PR game at all times.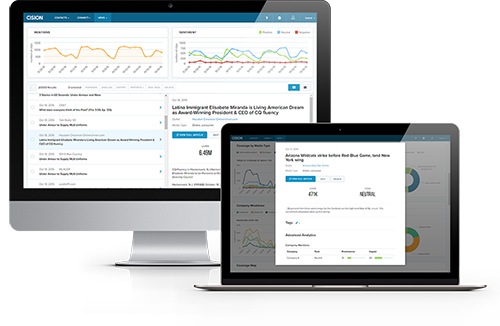 Targeting:
Reaching out to the right influencers, especially to the right bloggers is key to Thirty-One Gifts' communication strategy. With a diverse product line, Thirty-One Gifts needs to be able to target a wide variety of influencers to match each products' particular audience.
"It is critically important for me to have access to specific media outlets since I often reach out to various genres of bloggers and change distribution frequently in response to the products and personalization we're offering each season," said West. "Recently I've created mailing lists from Cision and reached out to baby bloggers, fashion bloggers, police and fire blogs, military blogs and emergency medicine bloggers.
"Cision offers a blogger database that is superior to anyone else's and is one of the main reasons I left another provider and chose to work with them a few years ago, and have stayed with them," added West.
Thirty-One Gifts uses Cision's Contacts/Search function often. "Cision's large database of bloggers is one of the key reasons why Thirty-One Gifts partners with Cision year after year," said West.
Thirty-One Gift also uses Cision's HARO (Help a Reporter Out) to offer themselves as a source, and have had great success with it. "I have established many contacts and ongoing relationships with bloggers by using HARO," said West. "It is a fantastic resource!"
Once a successful connection is created with a blogger, it is important to cultivate the relationship and keep a line of communication open. "Building relationships with bloggers is like working with friends – very unlike working with traditional media," said West. "I develop relationships with bloggers who match our demographic, brand and values. I build relationships by being responsive and easy to work with, and by assisting them with their work."
Reporting:

Using Cision, Thirty-One Gifts create monthly and quarterly media placement reports directly from the platform. The reports can be easily shared with the executive director of marketing and showcases the number of placements, circulation and type of media outlet.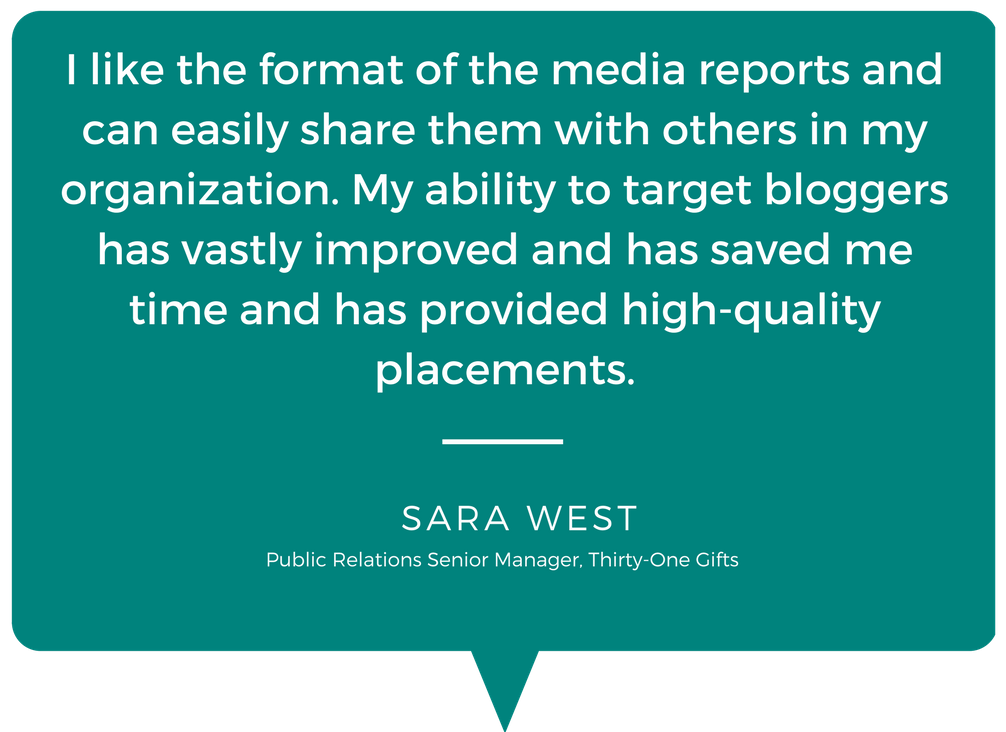 RESULTS
PR team brings greater value to organization
Thirty-One Gifts work to promote a new HERO personalization celebrating military and public service people on its products recently received great results. Using Cision Comms Cloud, its wire release reached nearly 232 million people. Several military bloggers and media specifically targeted using Cision included product reviews and placements on their blogs.
"I may get as much as a 70 percent placement from a pitch to bloggers from the database, and sometimes the outreach to bloggers is viral," said West. "I may pitch one blogger from the database and then see her blog post repeated on several other blogger's sites with whom she has a relationship. I've seen this with many campaigns, including the HERO outreach.
"I like the ease of use of the platform, the simple four-tab design intuitively tells me where to look for information or functions I need," added West. "I most often use the Contacts function to create media lists, the Search function to easily find anything I need, the My Coverage function, and the wire release and tracking function to see where my wire releases have placed and provide factual, statistical reports to leadership."
Thirty-One Gifts also appreciate the level of service offered by Cision. "I like the personal attention and responsiveness of my account representative," concluded West. "I appreciate the training modules and help/support services as well."