Contextualize your ESG successes with data

Boards and executives have embraced the call for more purposeful Environmental, Social and Governance (ESG) strategies. Over 2,000 studies validate the correlation between financial performance and stronger ESG profiles. With no sign of the trend slowing, investors relations officers (IROs) must incorporate ESG findings into their fiduciary duties.

Experts attribute this positive relationship between ESG and stock performance in part to sustainable companies seeing customer growth, talent attraction and retention, cost reduction, improved regulatory relationships and investment optimization[1]. To maximize the benefits in customer and talent attraction and retention, today's business professionals must not only execute on a strong ESG vision, but also drive awareness of their ESG initiatives and successes.

As part of a solution aimed to aid IROs and communicators, Cision is introducing retrospective and ongoing quarterly reporting focused entirely on clients' and their competitors ESG performance.

Cision Insights' ESG reporting solutions help you to:
Establish both a company and competitor baseline for 2021 comparison to 2020 performance
Put key wins, risks, and opportunities in context
Move from understanding what happened to why it happened and what to do about it
Track executive and spokesperson performance on issues
Evaluate key publications and influencers and where to get your message out next
Interested in seeing what a retrospective analysis looking back at 2020 might look like for a client? Download our anonymized, sample on the financial industry.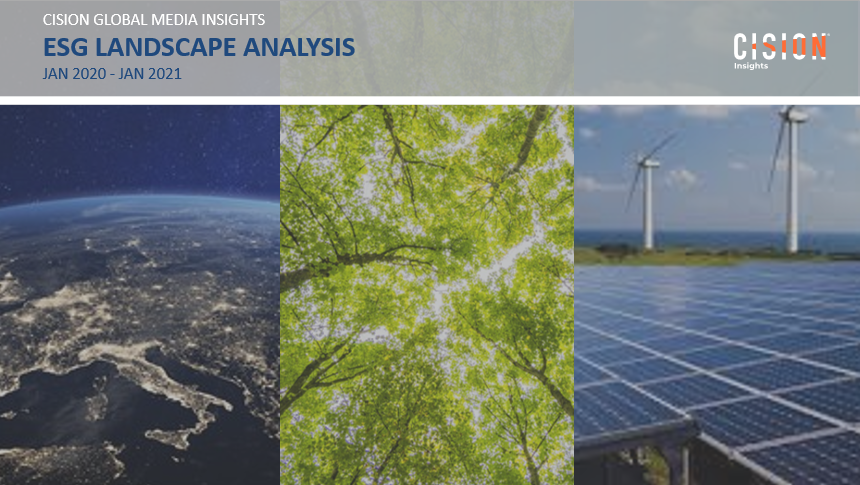 Request a meeting to discuss solutions for ESG monitoring and measurement
Request a meeting to discuss solutions for ESG monitoring and measurement