After a ten-year career as one of Vancouver's prominent event planners, Marc Smith decided it was time for a change and posted on his Facebook page "I am ready for a change. What shall I do with my life?" After receiving countless suggestions, he began documenting these new experiences on his site, 30 Day Adventures. Since then, the site has grown beyond the boundaries of Vancouver to include a multitude of North American hot spots.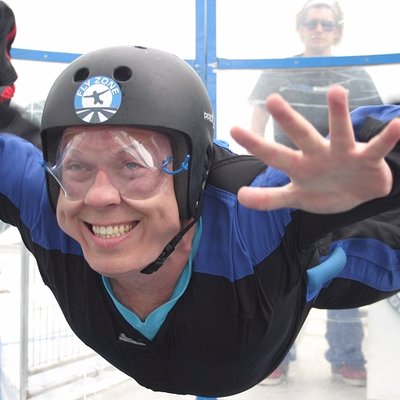 You can follow Marc @TheMarcSmith.
What makes for a great post?
A great experience. It is my hope that the excitement I had living the experience translates to the post through my written words and my photos. Although I have to be honest, some of my favourite posts where I really dig deep to be meaningful sometimes get very few comments while other posts that took me very little time to write go viral. If I had an easy answer I would write a book and be on the speaker circuit full-time. It's not a science, it is an art.
Your blog receives funding from the Government of Canada. What contributed to your decision to apply for a grant? Has it changed how you run the site?
With the help of the grant, I've been able to make some substantial back end changes and site design changes that have resulted in 400 per cent more web traffic to the site. I applied for the grant because I couldn't do it alone and I needed expert help in areas that are not my strength. The grant helped me access experts and I continue a relationship with them today. 30 Day Adventures would not be where it is today without support from the Government of Canada.
Your about page explains that you started blogging as a way to try out new careers–what would advice would you give those trying to become professional bloggers?
Don't do it! Haha just kidding. This career path is not easy. You need to be persistent, resilient and most importantly, hard working. Being a great networker has also helped me. I've had many challenges that almost made me consider giving up, but the rewards and experiences I've had keep me on the path. It also takes a village. Without an amazing community behind me offering support and advice when I need it, I wouldn't be doing this today.
What do you think the ideal business model is in the new media landscape?
There is no one-size-fits-all strategy in this industry. I firmly believe you must look at what you offer and tailor your business offerings to match that. While I publish stories 5 days a week and travel is what gets me out of bed every morning, I have discovered a path to financial security through sharing my life stories and advice on the speaking circuit. I have spoken to industry groups, other media professionals and a crowd of social media marketers. You have to find your niche and work it. I'm building some of my travels around my speaking gigs going forward. It's a win-win for me.
Which social media platform is working best for your blog?
While I started out on Twitter, I am finding Facebook and Instagram to be the best drivers of traffic and audience engagement for me. I will never abandon Twitter though; I love the 140- character limit. It makes me edit myself.
How do you balance media that generates traffic and your editorial principles?
Editorial is editorial and is not impacted by marketing campaigns. Readership and site traffic is important though so I stay true to my beliefs, ethics and principles. Everything I write I stand behind 100 per cent. I also focus on evergreen content so an "ambulance chasing" story that addresses an in the moment occurrence doesn't work for me. Therefore I'll rarely cover topics like theatre or political impacts to travel unless I write a "how to address the new rules" story.
What ís your number one tip for PR people?
Take the time to do a bit of research on the individual media/influencer you are pitching before you reach out to them. I research you and your client before I contact you so I expect the same consideration back. I am a 48-year-old single gay man. I do not have kids so please don't send me back to school products, etc. I love coffee, donuts, great food, soft adventure and small towns. Beer, wine and spirits are a given so if you represent any of those categories, let's talk.
Besides your own blog, which blog or blogs do you read the most?
Most of the blogs I read are from personal friends that I admire. Miss604, Johnbiehler, and others if I want to read up on a specific experience I know they documented.
Coffee or beer/wine?
All of the above! 7 a.m. to 11 a.m is Coffee, 11 a.m. until 2 p.m. is for Beer, and after that it's wine unless there's a cocktail to enjoy.