Pitching is an integral part of the PR process and communicators are always looking for ways to build meaningful media relationships for themselves and their clients.
Cision's 2017 State of the Media Report revealed that more than half of journalists and influencers are driven to pursue a story because a PR professional has displayed knowledge of their past work, interests and beats. It's important that communicators meet the needs of both their clients, who are looking for coverage, and those in the media who want to receive the right kind of content. Achieving both may seem like an uphill battle, but a few tweaks can make the process a smooth and simple climb.
Here are a few ways you can streamline your pitching process.
Plan Ahead for Earned Media Opportunities
While you can't plan for everything that might come you or your client's way, some dates never change. Major holidays are always a good opportunity for PR and marketing campaigns, but many publications require content pitches months ahead of the big day. Keeping an editorial calendar full of all holidays, industry conferences and key events around your regional offices will help you prepare your pitches early and avoid missing a journalist's deadline. It's also beneficial to mark down statutory holidays so that you aren't sending out pitches when journalists and influencers won't be frequently checking their emails.
Keep (and Maintain) a Solid Media List
Within every great PR and marketing campaign lies a solid media list. It outlines your target audience and helps shape your key messages and shouldn't be built from scratch each time you have news to share.
Make sure you've collected important details, like:
Beat (what topics do they cover)
Role (exact job titles)
Media type (e.g., broadcast, online, print, etc.)
Recent content (e.g., publication frequency, last 3 articles written, etc.)
Social media accounts

Since these often need to be available at a moment's notice, don't forget to update this list frequently. Also, keep your eyes peeled on Twitter, as many media moves are announced there.
Furthermore, our Anti-Spam Laws require marketers to get explicit consent to send emails, including pitches. Regardless of your target, it is still good practice to keep track of unsubscribe requests, otherwise journalists may feel uneasy about working with you on future story ideas.
Have Your Media Brief Ready
Once your release has crossed the wire and journalists are emailing and calling for interview opportunities, your work is done, right? Wrong! As requests come in, your media spokesperson needs to be well informed and prepared for each opportunity, which includes a concise document that highlights helpful information about the reporter, their outlet, and important speaking points.
Aside from crucial logistical details (the 5 W's, and how), design your brief so that it contains the following information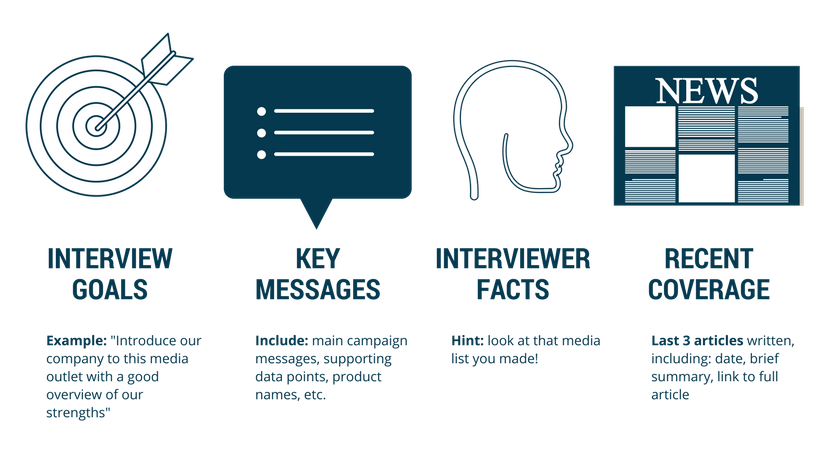 This document will be your lifesaver and will keep the PR process rolling smoothly.
Use a Workflow Platform
Those short on time and resources often turn to media database services to give themselves more time to fully focus on campaign content creation. Dedicated researchers are collecting all the valuable data you need on your media list and are updating this data on a consistent basis. These kinds of platforms help PR professionals go from media list to e-pitches in a matter of minutes, which is especially handy for agencies representing multiple clients.

For example, Nardi Media, a boutique agency located in Washington D.C., leveraged the Cision Communication CloudTM to build targeted media lists and send out pitch emails without putting pressure on the firm's technology or growing list of clients. "I have access to all major media outlets as well as local or niche outlets that I may not have known about," said Ashley Bernardi, founder & publicity director at Nardi Media.
To learn more about how Nardi Media streamlined its pitching process, check out the full Success Story here.