Edelman Canada's president & CEO, Lisa Kimmel, recently presented the company's 2018 Trust Barometer results, kicking off a panel discussion featuring Matthew Harrington, Global Chief Operating Officer, Edelman; Kirstine Stewart, President and Chief Revenue Officer of TribalScale; Rahul Bhardwaj, President & CEO, Institute of Corporate Directors; and Hon. Peter MacKay, Partner at Baker McKenzie and Former Minister of Justice and Attorney General.
Here are a few insights communicators may find worth knowing as they roll out their 2018 plans.
Trust in Canadian journalism has grown
A surprising (but delightful) finding for Canadian media is that 61 per cent of respondents said that they trust traditional and online-only media, which is a 10 per cent jump up from last year. This aligns with a 2017 study from the Radio Television Digital News Association (RTDNA) and Ipsos, who found similar results across all age cohorts. "The global contrast in media coverage has given Canadian media a big boost, as audiences appreciate the Canadian objectivity," said Stewart.
Trust in individual journalists grew by 17 per cent and had the largest increase of all authority figures. This boost in trust should bolster journalists who in last year's Cision State of the Media report strongly believed they were less trusted by the public.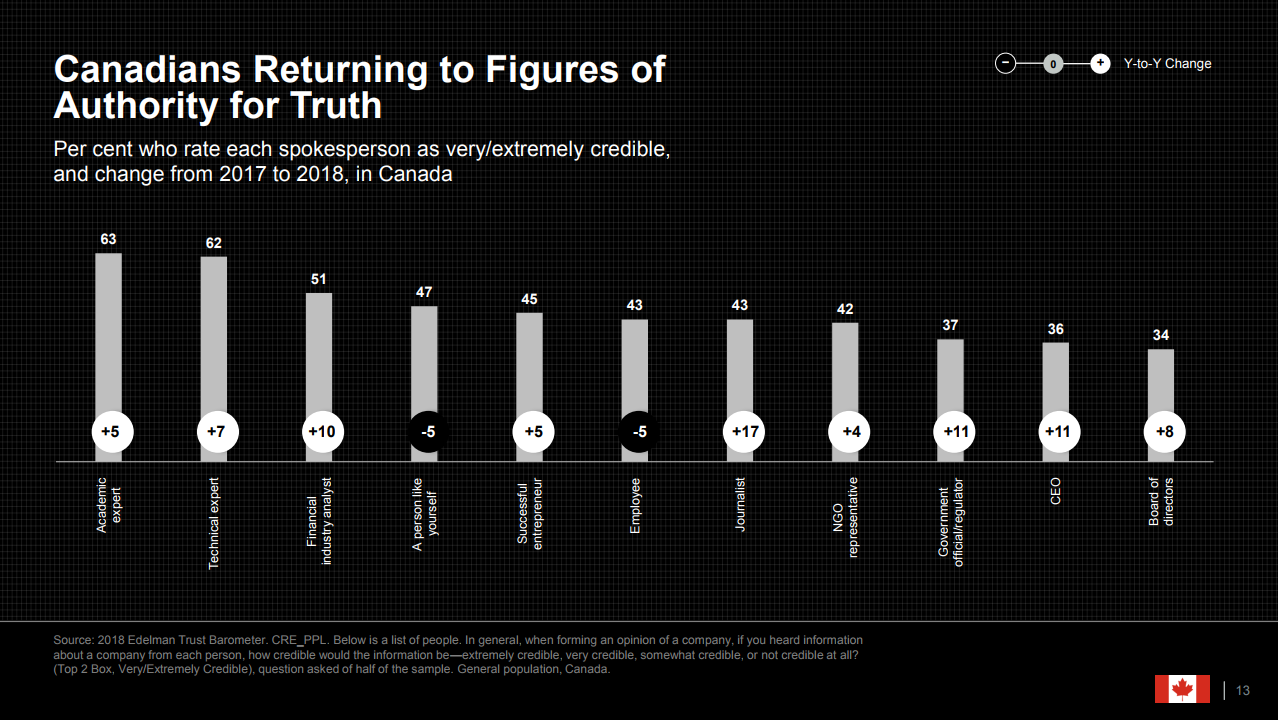 That being said, trust in journalists sits at just 43 per cent. "Our study demonstrates that Canadians want non-partisan news, genuine voices, and balanced arguments," said Kimmel. "This information needs to be validated through research and third-party resources."
PR Tip: Sharing news via reputable newswire distribution channels is still a powerful way for brands demonstrate credibility with journalists.
Canadians companies are the most trusted in the world
"For the first time in the history of the study, global companies headquartered in Canada are the most trusted in the world," said Kimmel. This is particularly exciting, as many global organizations have been eyeing Canadian cities as secondary headquarter locations. "Canada has a good brand and that's a good opportunity for business," said MacKay.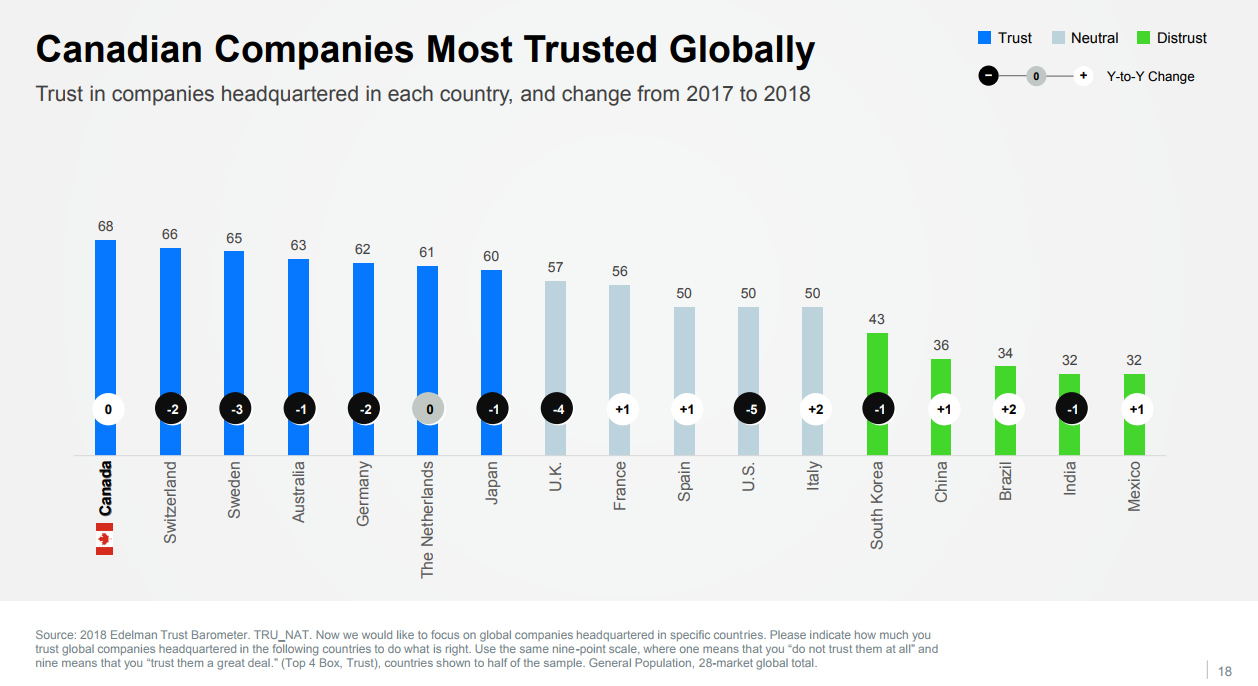 The panel agreed that Canadian businesses need to seize this opportunity, especially as large countries like the U.K and U.S. are experiencing steady declines.
Canadians still worry about fake news, social, and the media industry
Sixty-five per cent of respondents are very concerned about "fake news being used as a weapon," which sits at the lower end of the spectrum among other nations.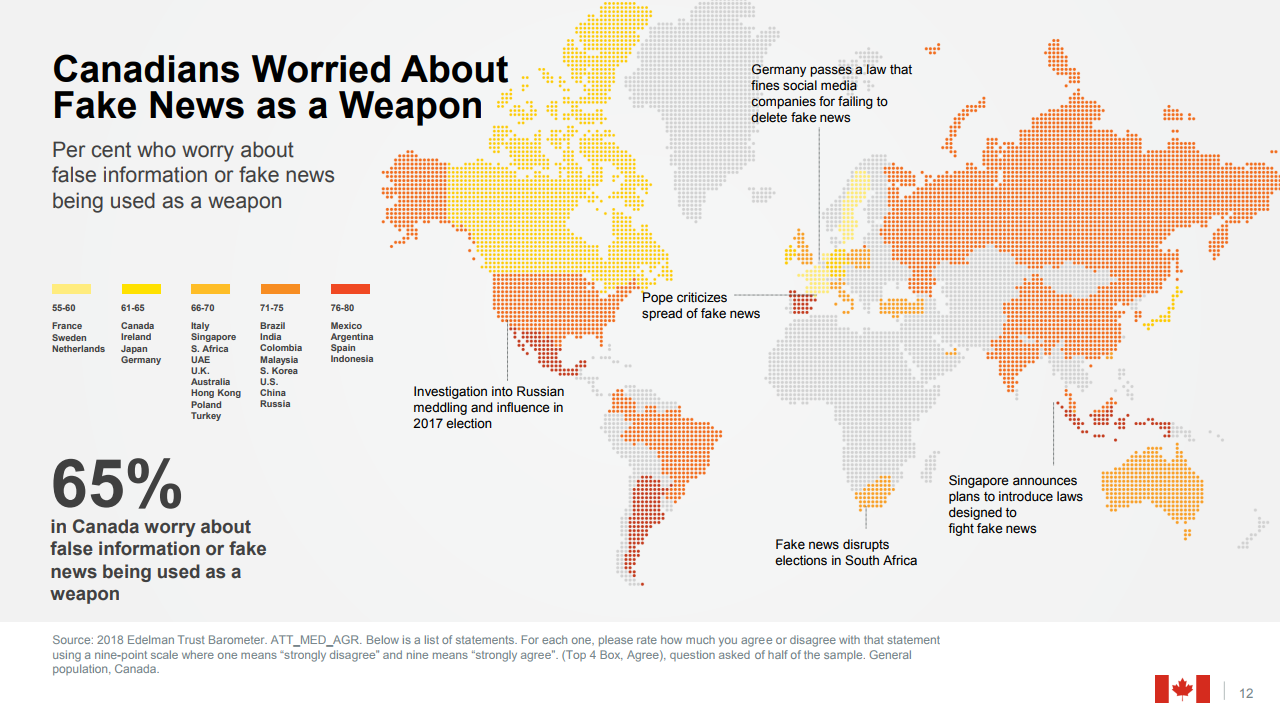 A lot of responsibility around fake news has fallen to platforms like Google, Facebook and Twitter. "These companies have acknowledged their responsibility in enabling the proliferation of fake news, and plan to act quickly, but we know that brands are planning to pull away and governments will begin to regulate if their actions aren't quick," said Kimmel. Edelman also reported a one per cent drop in trust for both search engines and social media. "Fake news has made news across social media more complex. It's harder to know who to trust," said Stewart.
Canadians are less engaged with news than the rest of the world
More than half of respondents (54 per cent) consume news less than weekly, which is four points above the global result. "The Canadian public is withdrawing from news consumption for a number of reasons, including being sick and tired of all the bad news," said Stewart. MacKay argued that one problem in media has been the "over-editorializing of news sources" which has made "biases more apparent."
Surprisingly, only 16 per cent of Canadians "amplify" their news. In other words, few are consuming news and sharing or posting that content on owned media such as social networking sites. This is 9 points lower than the global average (25 per cent). "Amplifying news requires that you trust it. It's a tacit endorsement," said Stewart. "This really makes us question the viability of social as a distribution channel," added Kimmel.
Trust in CEOs has grown, but there's still work to do
While still among the least trusted authority figures to Canadians, CEOs saw an 11 per cent boost in trust from 2017, along with Government officials and financial industry analysts. "It's nice to see that CEOs are trending in the right direction," said Bhardwaj. Despite this, Kimmel believes "there is a clear appetite for CEOs to fill a void as Canadians search for truth." "The evolving workforce demands a new kind of leadership that isn't so much top-down, but instead harnesses the energy and influence of the group," added Stewart.
This may be promising news, but Canadian business leaders must strive to show a commitment to the long-term. More than half of Canadians agree that companies who only think about themselves and their profits are bound to fall, and 68 per cent believe that CEOs are driven more by greed than a desire to make a positive difference in the world. "The old saying that 'the business of business is business' needs to evolve," said Bhardwaj. "They need to be about more than just the bottom-line if they want to build trust."
So how can they do this? Canadians want to see businesses driving economic prosperity, investing more in jobs and continuing to innovate. These priorities greatly differ from the U.S., who have stronger privacy and corruption concerns.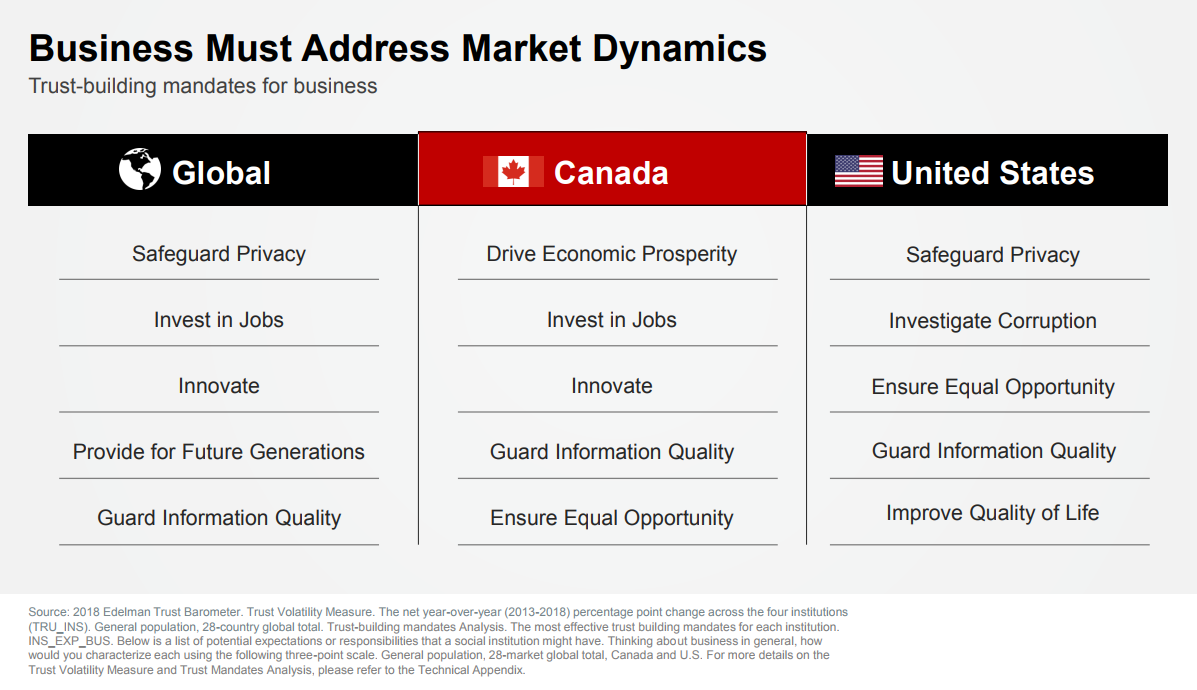 But business and CEOs don't need to act alone. "Businesses are only part of the solution, but there's ample opportunity for them to partner with other institutions, like government, NGOs and media," said Kimmel.
PR Tip: leverage your CEOs not only as spokespeople but as subject matter experts within your company's industry. Consider speaking opportunities and creating thought-leadership content marketing pieces to highlight their expertise.